As an eCommerce store owner, did you analyze why your website is facing glitches that are degrading your site? Why do customers face some sort of poor experience on the site? The main reasons behind these issues are bots. Bots are automatic software programs that are designed for good work, like chatbots. Moreover, some are here with evil intentions too. The OpenCart block bot/user by IP or country addon can help store owners in dealing with these evil-minded bots. These bots can generate unwanted traffic on eCommerce stores through fake registrations and can harm the site through malicious activities.
The OpenCart block bot/user by IP or country addon allows the store owner to restrict access to IP addresses that they suspect of spamming. Additionally, owners can also block access to countries where they do not sell goods which will help in avoiding useless traffic.
The OpenCart spam blocker extension also helps store owners block the access of particular users they find doubtful. The user can simply block unlimited suspected persons by IP or country-specific. So, the OpenCart block bot/user by IP or country addon will free eCommerce stores from the malicious bots and users who are sending them.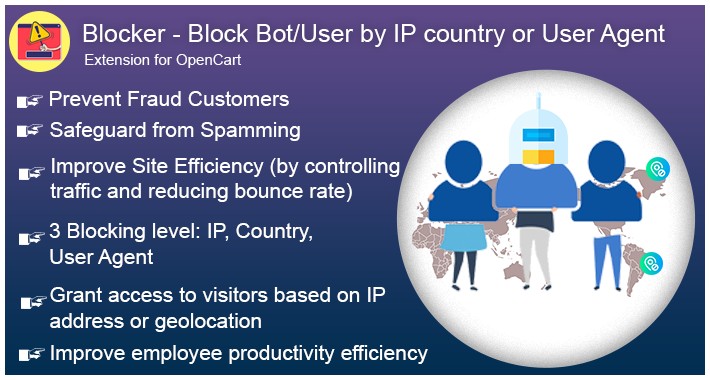 The store owners by using the OpenCart block bot addon can also enable the Google Recaptcha function on the frontend. This will avoid bot entries on the site easily. Owners can enable it on different pages wherever required such as the Login page, Registration page, reset password page, etc. OpenCart block bot addon provides Recaptcha in two versions which are V2 (Version 2) and V3(Version 3). V2 is an older version of simple Recaptcha whereas V3 is a new version that uses the latest AI-based technologies to deal with these malicious bots.
Here one more question arises. What will happen if the owner accidentally restricts access to someone who was not the perpetrator? Hence, the OpenCart spam blocker extension provides a facility for a blocked user that they can send a request for unblocking them to the owner. Therefore, they will decide that they should keep that user's access blocked or unblock it.
To understand the work of the OpenCart block bot/user module, visit the video mentioned below.
Hence, this clearly explains how bots are harmful and how those problems can be tackled down by the OpenCart block bot by IP module. So, owners can easily track any IP address activity in the store and block them if they find them doubtful. The OpenCart block bot by IP module for online stores is an important aspect to provide a better user experience. 
Where to get the Blocker – Block Bot/User module?
Many eCommerce plugin development companies develop the OpenCart IP spam blocker module to take down these bots. Out of those, Knowband is the leading organization that deals in plugin development for various eCommerce platforms. It provides the OpenCart IP spam blocker module at a very reasonable rate. Also, Knowband has a very cooperative support system.