As mobile applications & technologies keep evolving every moment, it is essential for online eCommerce businesses to keep their own shopping apps updated as well. When it comes to mobile applications, eCommerce businesses must ensure that all the necessary latest features are added to the same. Else, they might be losing potential leads unknowingly. Considering this, check how OpenCart Mobile App Builder can help all the OpenCart store owners out there. 
Well, this writeup describes the new feature additions introduced in the OpenCart Mobile App Builder, by KnowBand. This extension has been very useful for OpenCart store owners who need to build & launch an Android &/or iOS Mobile App for their Opencart Store. Now, with the following new features, this app maker extension will prove to be a great tool in every way. Know more from the below links:
New Feature Additions In OpenCart Mobile App Builder:
1. 'Add-To-Cart' Quick Access: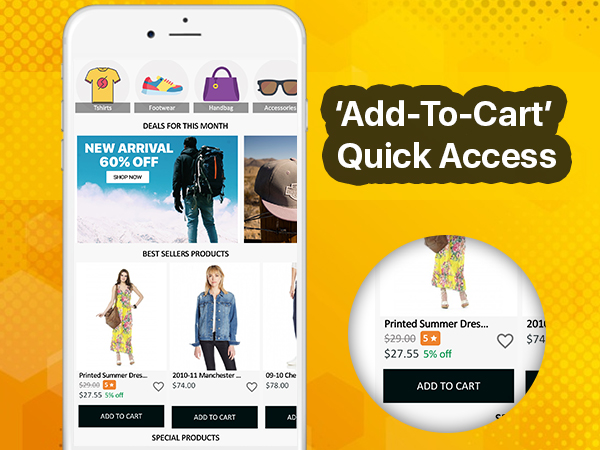 With this feature, without opening the product screen, the OpenCart Mobile App users can directly add the products to their basket. Take an example of multiple product blocks displayed on the category pages, the home page, etc. App users will only have to click the add-to-cart button attached to the product block. This feature assists in improving the mobile shopping experience and app usability. 
2. Product Reviews & Ratings: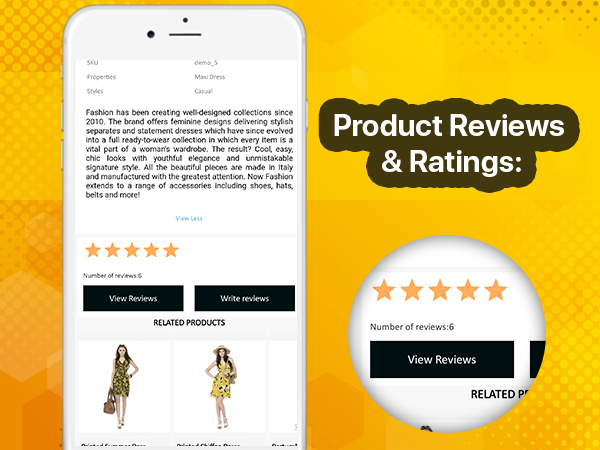 All of the ratings & reviews that customers leave on the OpenCart store will automatically be displayed on the OpenCart Mobile App (built with this extension). App users can also submit reviews & ratings on the mobile app itself.
The star ratings and valuable user feedback will give you an honest review of your products and will also help users in making purchase decisions. Having this feature in your Opencart Android and iOS apps will definitely be a game-changer for your business.
3. Related Products on App: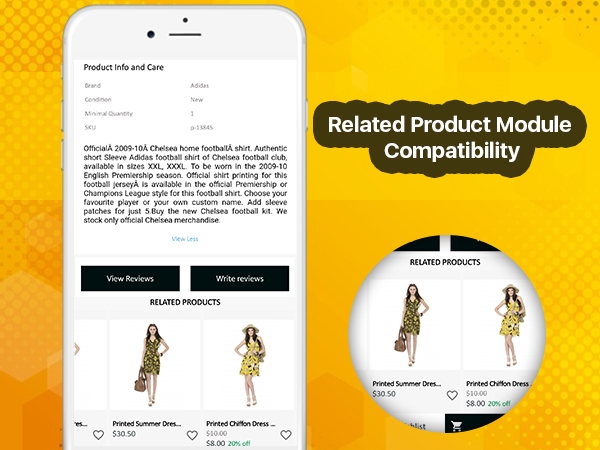 It's a great marketing tactic to indirectly introduce customers with other relevant products without appearing too promotional. That's right, Related Products on the app serves that purpose efficiently. On the product pages of Opencart Android and iOS apps, upon scrolling down, products that are related to the main product will be listed. This can help in up-selling & cross-selling as well.  
4. Home-Page Editor With Live Preview: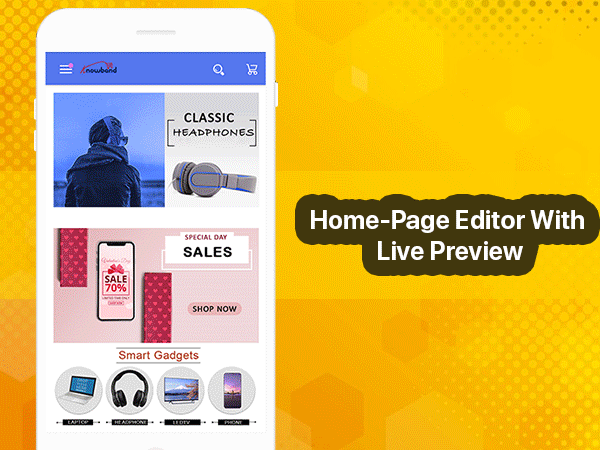 Worry no more about spending hours on coding just to re-design the home-page of the Android and iOS apps. The Opencart Mobile App Builder provides the store owners with an easy-to-use dashboard on the backend. With that, the store admin can design & edit the app's home-page. The best thing is that the 'Live Preview' feature instantly gives a visual preview of the edits/ re-designs made within the home-page layout editor.
Apart from these, the Opencart Mobile App Builder is compatible with Knowband Multi-vendor Marketplace. Check out the combo pack from the below link:
https://www.knowband.com/opencart-advanced-marketplace-with-mobile-app
Other than all the new features described above, the OpenCart Mobile App Builder offers a lot more features benefitting both store admin and users –
Live Synchronization between mobile app & website

Automatic Inventory Management

CMS Page Management

White label application

Fully Customizable Native Mobile Apps

Android & iOS support

Smartphone & tablet support

Multilingual & multi-currency support

Unlimited Push Notifications

Add-to-cart button's navigation control

Gamified 'spin & win' module compatibility

Multi-vendor marketplace module compatibility

Customizable tab-bar & homepage layout

Fingerprint & OTP login

Social login & sharing

Deep linking

Voice command product search (Android only)

List & grid view of products

Swipe display for products

Multiple product images

Whatsapp/ Zopim chat support

Coupon & voucher support

One-Page Checkout

All Payment & Shipment methods

Order Tracking
Conclusion:
Online shoppers are always on the lookout for easier yet efficient shopping experiences. If you are an OpenCart store owner selling just on the website, then this OpenCart Mobile App Builder extension is the perfect solution for you to easily build & launch your own OpenCart Mobile App. Why wait longer?
Get your own app & get ready to thrive. For any assistance or queries, feel free to email our team at [email protected].