There are more than 2,75,000 eCommerce merchants who are using the OpenCart platform to run their online retail shop. Well, this number clearly depicts that the platform is holding quite a number. The reason is simple, the versatile features & extended customizable limits makes it a decent choice for online sellers. If we believe the future statistics, this platform is rising continuously at a breakneck speed.
With the touch of the mobile space, the eCommerce industry has seen a revolution from the past decade. The paced rise in the eCommerce industry lead the store merchants straight to the door of mobile shopping apps. According to business experts, consumers downloaded 194 billion apps in 2018 which simply denotes the global dominance of mobile apps. And, this is quite a compelling reason to launch a mobile shop these days. Here, I am discussing some classy features which every OpenCart store admin should look in his apps.
Factors Which Makes Everyone to Prefer Mobile Apps For Their Online Business
1. Handy Size:
One of the biggest advantages of taking business to the mobile platform is handy size of the mobile devices. People can easily carry their smartphones or other smart devices with them. Also, people find more comfort and satisfactory experience while using them.
2. Fast Performance:
No doubt, mobile apps are ruling when its come to the performance. Mobile apps are streets ahead than websites. Quick content loading keeps users engaged whenever they visit your store. Fast performance is one of the major reasons why everyone looking to invest in mobile apps nowadays.
3. Easily Accessible:
No need to enter the site URL or open your browser. With mobile apps, the users can visit your store in just one-click. The availability of your store on the user's screen makes them visit your store once in a day. Also, it enhances your brand visibility among users.
4. More Features:
Mobile apps are not just restricted to some specific features. Mobile apps are providing the number of features to user's which make their online shopping experience seamless. The more you provide them a better experience the more they will revisit your store.
10 Must have features in your OpenCart Mobile App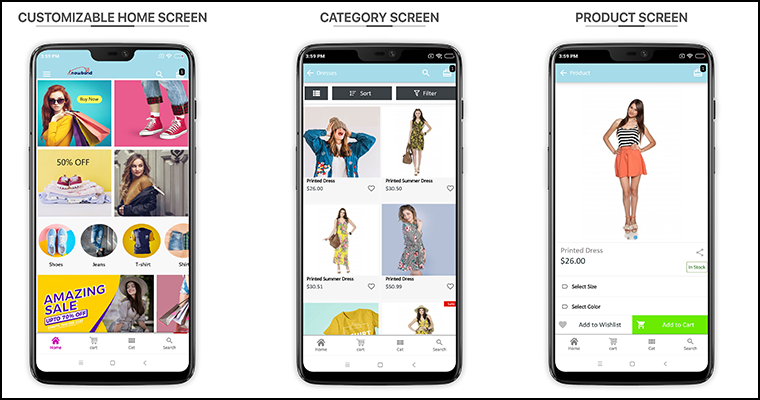 1. Easy Log-in/Sign-up:
Well, most of the user's frustrate after finding a hectic sign-in or registration process in stores. So, avoid those lengthy information pages and offer a simple and easy log-in or sign-up method to users. Google+ & Facebook are the best two social media platforms to offer in your OpenCart mobile app to users for quick sign-in into your store.
Also, one-time password(OTP) authentication & fingerprint log-in functionality allow the users to easily register into your store.
2. Brand Promotion:
Mobile apps are the best way to reach out to your audience. 24*7 availability of your business in the user's screen is the main reason why you should incorporate brand promotion in your OpenCart mobile app. This will simply give a boost to your store visibility and help you out to reach larger audience.
3. Live Chat Support:
The users will never visit your store if you are unable to resolve their queries/complaints/issues. Providing better and reliable support makes your store trustable. To easily resolve the issues of app user's you should introduce live chat features like WhatsApp & Zendesk in your OpenCart mobile app. With live chat support, the store admin can provide support to users 24*7.
4. Customizable Home Screen:
Your home screen layout of the mobile app is the first thing from which users will interact. So, try to make it as fascinating as possible. Also, you cannot stick to the same layout design of the mobile app. So, try to make appealing visuals and screens and make a great impression on users in the best possible way.
5. Real-time Synchronization:
Real-time synchronization feature is a must to include in your list. It completely syncs your web store and mobile app. This means all website changes will revert on the mobile app automatically. This saves a lot of effort and time of store merchants.
6. Multi-lingual & Multi-Currency:
With the support of multiple languages and multiple currencies you can reach to a global audience. It allows your global audience to access the app in their native language and select their desired mode of currency on the mobile app. With mobile apps, you can present your store on a global level. Also, RTL writing style support allows app user's to access the app in languages like Urdu, Arabic, etc.
7. Payment & Shipping Method Support:
You can offer multiple payment & shipping methods to users for a fast and secure transaction process. The more users will find payment & shipping options the more they will make transactions from your store. So, payment methods like PayPal, COD, PayU is must to include in your OpenCart mobile app.
8. Push Notifications:
Push notification is the best way to make communication with your users in a fun & interactive way. By sending push notifications like deals & offers on the festive season, you can simply make your user's to make a purchase within the valid time period offer.
9. Easy Checkout:
Easy checkout is something for which every online shopper will demand. If you don't have an easy checkout process in your mobile app then it's going to difficult for you to survive in this ecosystem. Try to make your checkout process simpler and smooth so that your users will easily complete the order submission process.
10. All Coupons & Voucher Support:
What better way to motivate your users for more shopping than providing coupons & vouchers on the mobile app. By providing multiple coupons and vouchers to your users, you can encourage them to more shopping.
Time To Give You Some Hint
It's hard to survive in the ecosystem without going for mobile app development. Nowadays, site owners cannot afford to ignore the mobile presence. The graph of mobile app growth is continuously going in an upward direction. Well, if you want to stay remain in the edge-to-edge competition then you must incorporate all these above-mentioned features into your OpenCart mobile app. If you are looking to grab your hands on this kind of mobile app then you should search first KnowBand.
KnowBand offers ready to use native OpenCart Android & iOS mobile apps. With KnowBand, the store admin doesn't need to touch the coding part. The development team will develop and deliver you the Android & iOS shopping app in your hands. Also, the best thing is all these above-mentioned features are present in the OpenCart mobile app. There are some other features present in the mobile app as well. So, let's make your decision today and get a pair of native Android & iOS shopping app for your store.